POSITIONED REALITIES

Plural conditions for change are knocking on our doors. How we position ourselves is instrumental to fostering other ways of being and sensing—away from a gaze that declares universality. While we actively embrace difference and the communal. Strategies to think of exits and alternatives beyond the modern/colonial order and its endless shortcomings.

Positioned Realities is a transnational assemblage of visual and spatial projects. Who operate within or between capital, class, race, gender and land—navigating through places, bodies and environmental dimensions. Reflecting, intervening, and delinking from dominant ideologies, frameworks, and continuities of western historical reality.

This program is grounded in collective knowledge, political engagement, and articulating self-representation, decoloniality, and narratives of resistance. Collaboratively, we are attempting to bridge gaps with other realities into one space: Haus der Statistik, to think about our interdependence for the times ahead.

2022, Haus der Statistik. Visual identity by Can Yang.
BERLIN, GERMANY
ALL GOOD(S)


What do we make of the role of contemporary design in the climate breakdown era?

As extractive systems, created by some humans, are responsible for exponentially increasing the amount of materials exploited on a planetary scale—carelessly consuming more than 100 billion tons a year, as resource reuse is declining. We need to quickly bring into discussion how to apply modes and methodologies to shift into sustainable and circular practices effectively. To radically reduce the impact of the prevailing material and manufacturing culture, while simultaneously recognizing the importance of multi-species entanglement.

We live in a historical time where we encounter the limits of growth. Reform needs to accelerate for the sake of futurity. Through transformative approaches that deal with an increasing geopolitical sense of ecological urgency, design is no longer just a form of styling. Paying equal regard by creative imagination to social injustice and the modern commodification of nature—subsequently creating innovative learning landscapes.

2021, curated with the Embassy of the Netherlands in Berlin. Photography by Thyago Sainte.
BERLIN, GERMANY
(NON)DEPLETED AT GR_UND

Through a choir of critical but upbeat voices, the exhibition explores unconventional roads to material and systems. That enables different tactics, methodologies and perspectives—translated into research-based practice.

As the contributions transverse different material narratives, they explore modes of visually posing questions and opening up space for a multitude of perspectives—reaching a moment of reflection than a conclusion. An in-between state of transition and not yet knowing—where a statement does not has to be an answer. Letting go of the innovation-driven society's expectations to claim solutions.

2021, curated with Nina Blume, Oliverio Segura. Guest Curator: Johanna Honkomp. Visual identity by Delphine Lejeune.
BERLIN, GERMANY
THE EXPLODED VIEW


The installation "The Exploded View Methods & Materials" radically re-examines the realization of a home. In 2021 we will go a step further with The Exploded View Beyond Building. An iconic expo-installation of a full-size house that consists entirely of biobased materials, circular construction methods and stories about the changing value chain of which it is part. It is a plea for upscaling and system change. We visualize the circular living environment in full size and explain how circular and biobased building and design has an impact on much more than the construction sector.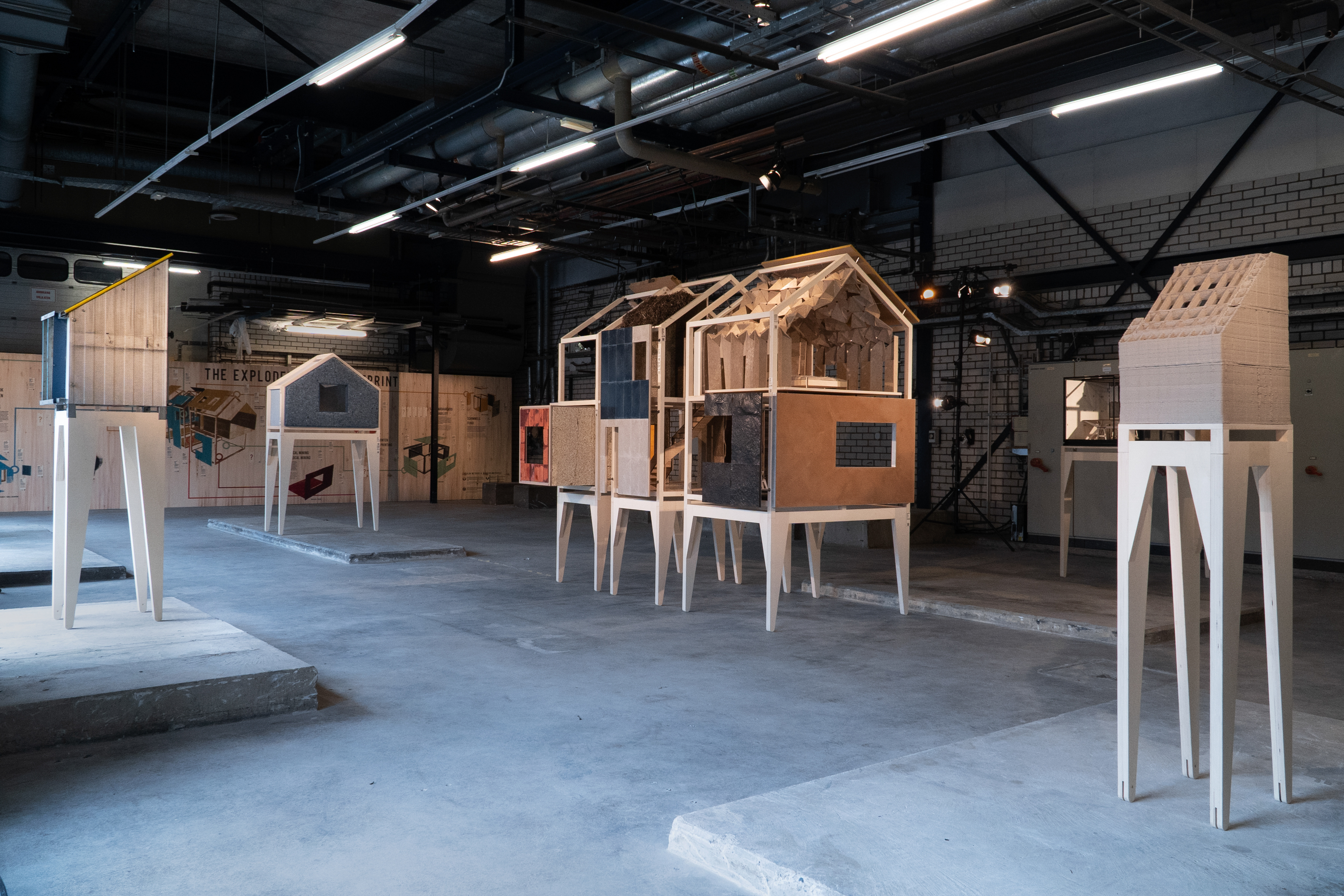 2020, collaboration with The Embassy of Circular & Biobased Building. Photography by Nanno Simonis and Eric Melander.
AMSTERDAM/EINDHOVEN, NETHERLANDS
(NON)DEPLETED AT DDW20


(Non)Depleted is a group exhibition gathering several local and international designers/artists. Through the presented projects, we are exploring the meanings of depletion—from resource extraction to critical thinking about social, political and ecological exhaustion. Presenting a broad spectrum of directions of how we might creatively envision an alternative to the ongoing system from an ideological, material, aesthetical and renewable perspective.

The body of work involves different media and approaches, with unclear boundaries between design, contemporary art, science and technology. They are the result of actively experimenting with postindustrial waste, biomaterials, living organisms and digital tools. Engaging with self-modified production processes, to the transformation of their own spaces into autonomous factories.

These proposals are seeking to expand how we can re-envision our methods, infrastructures and the meanings of materials. Not assuming to have answers but critically questioning and inviting the audience to think with us what we want forward to mean–by taking in mind the distance act of spectating.




2020, curated with Nina Blume and Oliverio Segura for Dutch Design Week 2020.
EINDHOVEN, NETHERLANDS